If you need our assistance
Remote support download page
Connection to Lyngaa System for support
Check that laptop has both wifi and ethernet compatibility.
Connect laptop to wifi with internet connection.
Download and run AnyDesk software.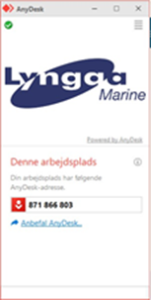 Connect laptop with CAT5/6 ethernet cable to FREE port on ethernet Switch on bridge OR PLC in engine room. 
You only need to connect cable to one of the below.                  NB!     (DO NOT UNPLUG ANY CABLES)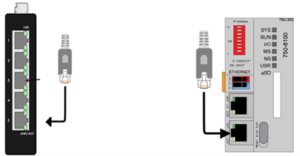 Call Lyngaa and inform that you are ready for support.
Tell Lyngaa employee this 9 digit number showing on your screen:
When Lyngaa have got the number, this window will pop up. Press then Accept and await further instructions over phone. 
Lyngaa Marine – Topstykket 27 – 3460 Birkerød